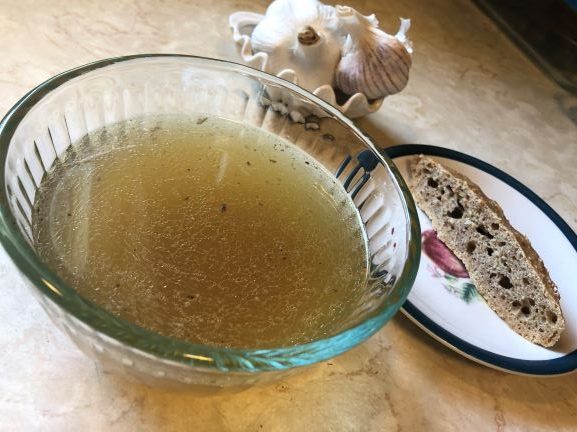 Bone broth may aid in all the following areas according to Medical News Today
Highly Nutritious – offering us vitamins, nutrients, collagen
Protecting our Joints
Reduce Inflammation
Heal our Gut (Healthy gut, healthy body)
Aid in Sleep
Support Weight Loss
I'm sure something in the above list will pique your interest.
Let's get started
What you'll need:
Bones – from a whole baked chicken, feet, necks, chicken backs
If doing beef – knuckles, shanks, marrow, rib, steak bones
A splash of Apple Cider Vinegar (I use Braggs)
Filtered water
These are the basic ingredients.  In the last hour or two, you could add some vegetables/vegetable scraps (ends of carrots, onions, garlic, etc).  Add Celtic sea salt and fresh ground pepper to taste.  Other spices like bay leaves, garlic, thyme, oregano, crushed red pepper,  will give it great flavor.
Directions:
If doing beef bones you can bake them for 20 minutes at 325 degrees (usually I do not, it is a time thing for me)
Combine bones, apple cider vinegar, and water into a large pot.
Let it sit for a half-hour
Bring to a boil, then reduce to a simmer with the lid on for 12 to 24 hours.
If foam appears on top scoop it off and discard.
In the last 2 hours add seasoning/veggies to flavor the broth.
 Strain broth.
Use to make soup, stew, gravy, add flavoring to other dishes.
The broth will keep in the fridge for one week.  You can freeze the broth for future use.  Sometimes it is great to freeze some in an ice cube tray when you only want a small amount for flavoring. If freezing in mason jar only fill the jar 3/4 full and place on an angle in the freeze to allow for expansion.
If you don't cook in large quantities whenever you have bones save them in the freezer.  Label a gallon-size plastic freezer bag with Chicken/beef bones.  When you have enough bones or the time, make some broth. I will even combine beef and chicken bones sometimes. You could also freeze your vegetable scraps to use in your broth.
Note: If using cruciferous vegetables like broccoli, cauliflower, brussel sprout, and cabbage do not cook for long periods of time it can give a bitter taste.
When making broth I usually like to make about a gallon.  Some for soup and some to freeze.  Do the quantity that makes sense for you, your freeze space and how often you want to make it.
One of my favorite ways to enjoy bone broth is simply warming up a mug to sip on.  Tasty and healthy.