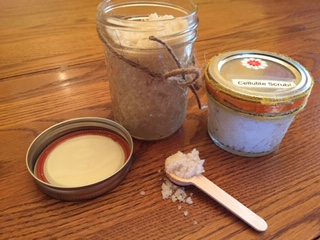 We all want beautiful glowing skin.  The best part is we can help our skin look younger by simply exfoliating it while we shower.  We all bathe so this is easy 🙂
What is Exfoliation?
Removal of dead skin cells on the skin surface
The simple step of exfoliating can have profound effects. Plus our skin is our largest organ, so let's take care of it.
Why Exfoliate your Skin?
Removes dead skin cell that clogs the skin
Allows moisturizing products to absorb
Skin looks fresh & healthy
Aging slows the shedding of skin cells and generating of new ones
Old Skin cells pile up leaving skin looking dull, rough and dry
Unclogs pores
Reduces blackheads on face
Diminishes fine lines and wrinkles
Stimulates microcirculation
Soften texture of the skin
Helps control excess oil
How to Exfoliate
Two main ways are physical and chemical
Scrubs
Chemically – acids that dissolve and remove dead skin cells
Chemical peels/masks
Dry Brushing
Exfoliating mitts
Loofahs
Continue reading Exfoliation & Handcrafted Sugar Scrub for Smooth Silky Skin