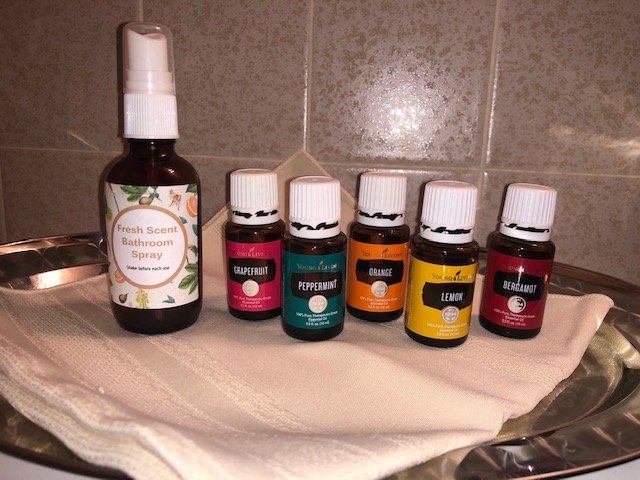 We all use the bathroom daily.  Let's leave it fresh when we are finished.  This helps to make a happy home 🙂
What you will need:
4-ounce glass spray bottle
1 teaspoon vodka or witch hazel
Young Living essential oils – about 30 drops total
Filtered water (about 3 1/2 ounces of water)
Essential Oils Combinations:
Fresh Days: 12 drops each of orange and lemon, then 6 drops cinnamon bark
Simply Fresh: 15 drops each: lavender and eucalyptus
Summer-time: 6 drops each: grapefruit, peppermint, orange, lemon, and bergamot
Sea Side: 7 drops each: bergamot, eucalyptus, lavender, rosemary and 4 drops spearmint
Your choice:  you could even do 30 drops of a single essential oil like Thieves, you decide
Remember this is your creation, feel free to increase or decrease the number of essential oil drops used.  Some oils like peppermint and cinnamon bark are stronger than others. Have fun and be creative.
Directions:
Add water first (so you don't overfill and pour out all your essential oils – wasted) about an inch from the top. Leaving room for the sprayer top and the other ingredients
Add vodka and essential oils
Cap bottle
Shake before each use
Spray as needed
In our home, we are careful what products we bring in our home – safety first.  With this said, we only use Young Living essential oils.  Actually they have over 500 health living products.  If you know of someone interested in getting some oils or other healthy product please reach out.  I'm happy to say I am a distributor.  If your ready to jump and don't need any help here is a link to get started.