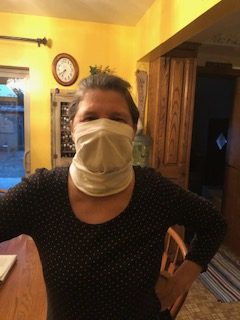 Let's start creating your t-shirt mask.
Grab an old T-shirt.
Measure about 6″ from the armpits and cut straight across
3. Using a marker, sketch the following lines.
4. If you want longer ties follow the inner markings near the bottom of the shirt when cutting.
5. Cut along marked lines
6. Cut back side of the t-shirt only
7. The picture below is what will create your mask
8. The mask can be used as a single layer of fabric or you can use the back part of the t-shirt that you cut out as a second layer.
9. Cut about 4″ from the bottom as shown. We will be flipping this piece of fabric to use as the second layer.  Before cutting measure the bottom so it fits across the top.  Matching the corners next to the neckband.
10. Pleat the corners on both sides a few times then add the extra fabric and attach a safety pin.
11. If the neckband is to loose you can pin it with a safety pin.
12. This is what the inside of the mask looks like.
13. Slipover your head so the neckline is over your nose.  Then tie the ends around the back of your neck.
If you want to be creative, draw a smile on your mask, bedazzle it will jewels, glue on red fabric lips, let's make it FUN.