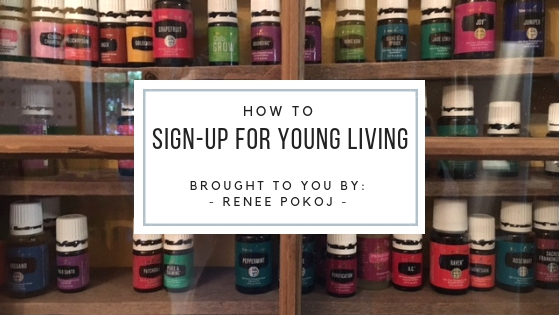 Getting registered for Young Living is easy! When you are ready, click sign up for Young Living to get started.
Once you click the link, the top of your screen will show a progress bar that looks similar to the picture below.
Step 1: Choose Your Membership
To save 24% on every order, sign-up as a member, which should be auto-checked versus a retail customer.
When it asks you what type of membership you want, this screen will appear:
Membership Details:
This information is regarding the region you live in and native language you speak.
Sponsor ID and Enroller ID are the identification numbers of the person that referred you to Young Living essential oils, in this case, that'd be us 🙂
Please enter a different sponsor's ID if you have one. However, I would be honored to be yours.
Confirm Sponsor:
Click the purple continue button in the bottom right corner to confirm.
The pop-up window will ask you to confirm your sponsor, press continue to start shopping!

After confirming your sponsor, it's time to get started!
Step 2: Choose your kit/diffuser
We recommend the Premium Starter Desert Mist Kit over the Dewdrop although both are fantastic products. [featured in pictures below]
However, the choice is yours, Dewdrop or Desert Mist, maybe upgrade to the Aria Ultrasonic if you're feeling fancy.
Your next window will look similar to:
Contents of a Premium Starter Kit:
I have both the Dewdrop and Desert Mist diffusers and love them both. Careful, if you want the Desert Mist, make sure to check the appropriate box (the Dewdrop is the default option).
Are you having a hard time deciding which diffuser is best for you? Here is some information to help you choose what diffuser you want:
Desert Mist Diffuser
5-6 hours on high mode
8 hours on low mode
10 hours on intermittent mode
11 light settings – including a flicker mode like a candle (Ditch the toxic candles and use your diffuser in flicker mood – change the scent every day)
DewDrop Diffuser
Easy use
4 hours of diffusing
On mode with and without light
Your YL Premium Starter kit includes:
Your Choice of Diffuser
Premium Essential Oils Collection;

Lavender 5-ml
Peppermint Vitality™ 5-ml
Lemon Vitality™ 5-ml
Copaiba Vitality™ 5-ml
Frankincense 5-ml
Thieves® Vitality™ 5-ml
Citrus Fresh™ 5-ml
Raven™ 5-ml
DiGize™ Vitality™ 5-ml
PanAway® 5-ml

Stress Away™ 5-ml
AromaGlide™ Roller Fitment
Thieves Household Cleaner 1-oz. sample
10 Love It? Share It! Sample Business Cards
10 Love It? Share It! Sample Oil Bottles
2 NingXia Red® 2-oz. samples
Product Guide and Product Price List
Essential Oils Magazine
Essential Edge News
Member Resources
Monthly Orders = More Rewards
While following the prompts to get your premium starter kit, they will ask you if you want to sign up for Essential Rewards.  When you decide to take advantage of the Essential Rewards program, you also earn points to purchase products for free.  Bam!  Who doesn't like free?  (I sure do)
Personal Care, Makeup, Cleaners, and Supplements are all products we need. Essential Rewards is an option to earn free stuff by merely purchasing cleaner & healthier products from Young Living.
Choosing an Essential Rewards kit
Take a step towards investing in your health.  Register for Essential Rewards and put your money where your mouth is.
I fully support ditching the toxic products and replacing them with options that promote our health.
Young Living provides many household cleaners, laundry detergents, deodorants, and unique hygiene products (even makeup) that are entirely organic and delivered right to your front door. It's amazing what you can accomplish with essential oils!
Press the purple "customize monthly order" button to discover the amazing organic products Young Living offers that will enhance your daily life.
Getting healthy and staying healthy is a choice that we make every day, every hour, and especially every meal. Take the time to consider the products you are using on a daily basis and ask yourself if the ingredients align with your health and well-being. Young Living has a fantastic product line-up featuring hard to find organic options.
Get Rewards, Get Free Stuff, Get Healthy… Live.
Customizing your monthly order means it's time to let the shopping begin!
What are the first toxic products that you are going to eliminate from your household? I started with small orders of Thieves Cleaner/Handsoap and bottles of NingXia Red, which is loaded with antioxidants and is a healthy boost to start the day with.
Explore the possibilities and search through each category and you will be pleasantly surprised at the fantastic options… also check out the Genesis Hand Lotion if you've ever struggled with dry hands, it's AMAZING!
Monthly Order Summary:
After you choose the items you want, scroll to the bottom of the page to see your cart.
If you have all the products you need, proceed to the bottom right corner of the page to click the "Save Monthly Order" button.
Customizing your order each month is super easy with the Virtual Office, you can change the delivery date too!
If you want free products, discounted shipping, exclusive bonuses, and scheduled delivery…
Check the box to confirm your monthly order!
Remember, use the virtual office to rotate the products each month.
If you have not signed up for Essential rewards and wanted more products than what's in the kit; this is where you can shop for them.
Add more products or continue with enrollment
If you decided to get the Premium Starter Kit without selecting a monthly auto-ship, click Continue Enrollment.
Click the purple button "Next" to get to the New Agreement page.
You will see an auto-ship warning pop up after you select the purple 'next' button and did not check the grey box above for essential rewards,
Again, we want to stress how important it is to mentally and financially commit to improving your health. The monthly cost of Young Living products is relatively cheap in comparison to other regular bills.
Does your cable tv subscription outweigh your overall health? How can you afford not to sign-up?
Step 3: Member Information
Enter your personal information; a few easy keystrokes ensure the safe delivery of your packages!
Creating a username, password and security pin
Login info is essential information, make sure to write it down before continuing to the next step.
This section also asks how you want to be paid any commissions.
Working with Young Living has incredible perks if you are interested in building a business.
Plan on making over $600 with oils? Consider entering your tax info so you can get paid!
Step 4: Shipping & Payment
Most people look right over the shipping information section, remember to choose the delivery method that fits your needs.
A simple credit card or PayPal information works as billing info to get started.
Click the purple next button to proceed to the final checkout.
Step 5: Checkout
The last and final step is a review of your order. Take a moment to look for errors which may impact delivery… or even worse, missing product(s)!
Seeing the free essential oils that are included with each order I place is my favorite part.
Click "Activate and Checkout", and you're done!
What else do I get from Organic Stepping Stones?
Videos on how to use your premium starter kit
Continuing education on essential oils and other Young Living products
Classes on Essential Oils (Both in person and online)
Articles on improving your health
Healthy recipes
Personal help on getting started (I'm here to help you on your health journey)
Videos on how to build a Young Living Business (If that is of interest)
Welcome to a family of health and wellness (we have members throughout the world)
Life is a team game, and we're all in it together. Please let me know how I can support you to continue to grow and prosper!
My name is Renee Pokoj, and I have been a YL Distributor since 2016, and I hope to hear from you soon!
Questions? I encourage you to contact me via renee@organicsteppingstones.com with any inquiries you may have relating to health and any products related to staying healthy.
To your health and well-being,
Renee