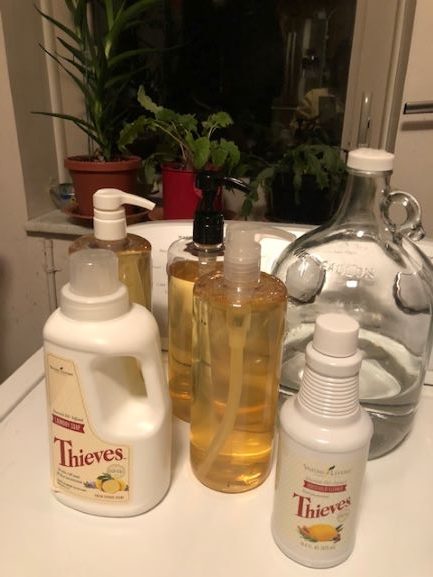 I love using laundry soap that does not contain: SLS (sodium lauryl sulfate), petrochemicals, formaldehyde, phosphates, synthetic fragrances, and optical brighteners. Okay, really does anyone want these irritants (and I'm being nice) in there soap.  You wear your clothes all day and sleep with your sheets and blankets – there is gas off going around the clock.
A simple and affordable solution, Thieves Laundry Soap hack.   Why a hack?  The laundry soap is concentrated and can be diluted. In other words more bang for your buck.
What you'll need:
A bottle of Thieves Laundry Soap
9 to 12 cap fulls of Thieves Household Cleaner
Filtered water
3 – 32 oz pump bottles
5 drops per bottle Young Living essential oils – Optional – Lemon is a good choice
Directions:
Pour the entire bottle of Thieves Laundry soap equally into the 3 bottles. (it will be about a 1/3 full)
In each 32 oz.  bottle pour in 3 to 4 capfuls of the Thieves Household Cleaner
Optional:  add Lemon essential oil or oil of your choice
Slowly fill the rest with water, allow room for the pump top.
Screw on pump top and gently shake to combine ingredients
For most loads of laundry 2 pumps will work.  If you have a garment that needs some extra TLC try using some Thieves DIY Stain Remover.