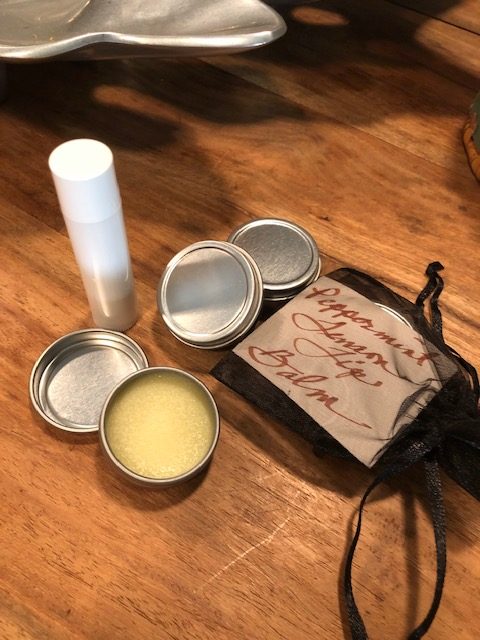 When you only want to make one lip balm.  Not everyone needs 5 to 10 tins/tubes at one time.
So quick and simple to make
Easy to double if you want two 🙂
What you'll need:
¼ oz. metal tub/container or tube
½ tsp. coconut oil
½ tsp. shea butter
¼ tsp. beeswax pellets
2 drops essential oil – Your choice (Recommend using Young Living)
Instructions:
Use a small pot/container to melt shea butter, coconut oil, and beeswax pellets (beeswax pellets take the longest)
Stir over low heat until liquid
Remove from heat add essential oil drops
Pour mixture into the tin
Let cool to become solid
Optional Instructions for less prep time:
Add the coconut oil and shea butter into a small plastic bag (3×3) or the corner of a sandwich bag.
Omit the beeswax
To melt the oil and butter hold in hands then squish the corner of the bag to mix ingredients
Cut bottom corner to squeeze contents into the tin container
Add essential oil to the tub
Mix with a toothpick to incorporate essential oils
Let cool to come to a solid form
This is fast and quick but it could liquefy in hot temperatures
Essential Oil Options:
Lemon and p0eppermint
Grapefruit
Lavender
Frankincense
Wintergreen
Enjoy your home-crafted lip balm with all healthy ingredients.  How cool it that!