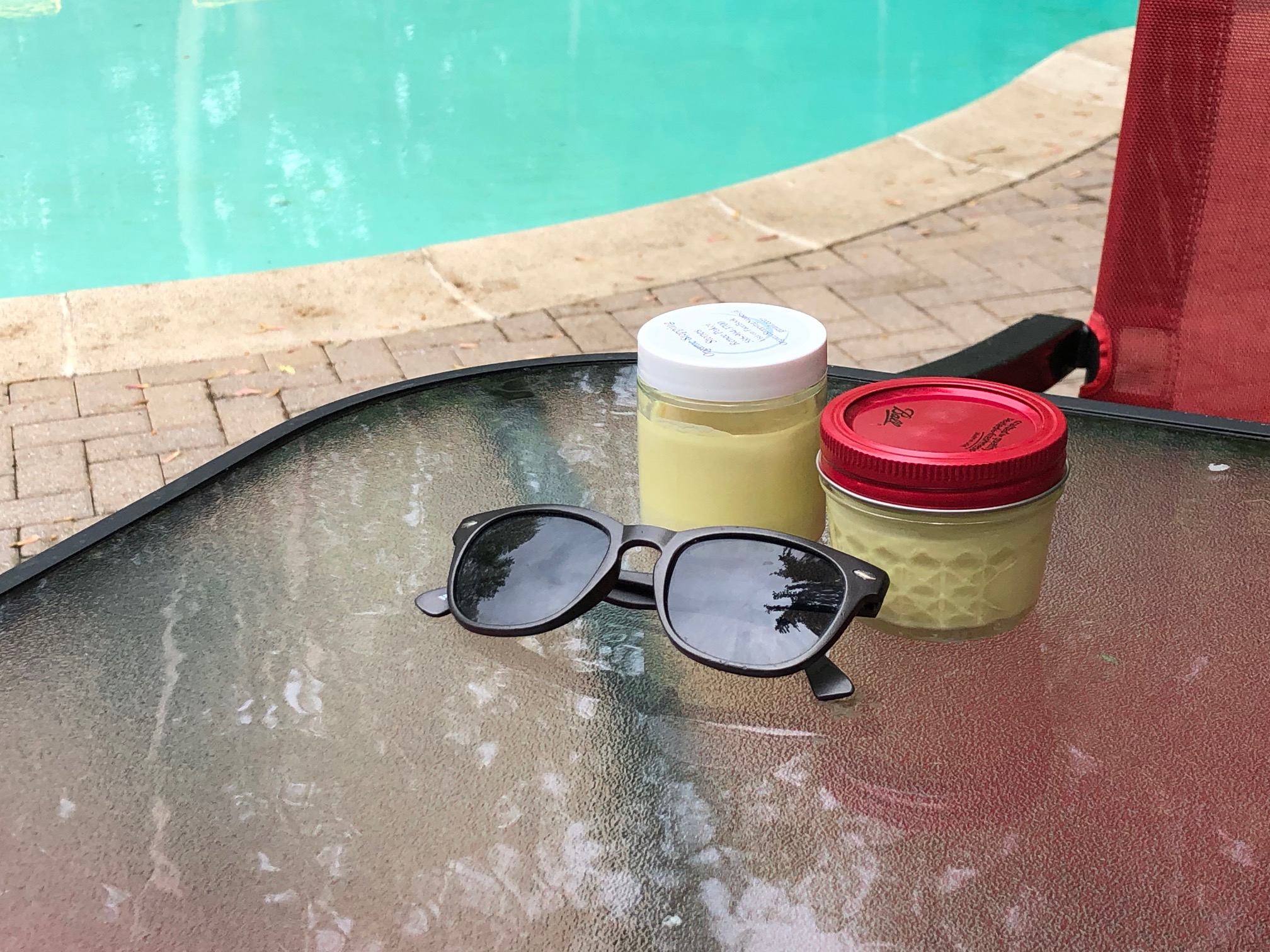 We all need to get some sun for that important vitamin D, but when we are going to be working or playing for hours our skin needs some protection.
So why should we make our own?
This is a great question.  I began breaking out in a rash from commercial sunscreen.  It was itchy, red, and driving me out of my mind.  After researching what is in sunscreen – lots of chemicals that are not good for our health –  I started making my own.
What you will need:
Double boiler or a pot with a glass bowl to create your own
3 – 4-ounce glass jars
1/4 cup coconut oil
1/4 cup shea butter or you can use cocoa butter (I prefer shea butter)
1/4 cup beeswax pellets
4 tbsp. glycerin
2 tbsp. carrier oil like a raspberry seed, apricot, almond, jojoba, carrot seed or another liquid oil
2 tbsp. non-nano zinc oxide
1 tsp. vitamin E oil
1 tsp. vanilla extract – optional if using cocoa butter
60 drops of essential oil – optional (I use 40 drops of lavender, 15 drops of frankincense and 15 drops of peppermint – Young Living Brand)
If possible use organic ingredients
Directions:
Place about an inch of water in your pot and simmer
Put double boiler or glass bowl on top of the pot
Add, all ingredients EXCEPT zinc oxide, and essential oils
Melt ingredients completely and stir with a fork or whisk
Remove from heat and add essential oils if using
Wear a mask or cover your mouth and nose with your shirt slowing add Zinc oxide while stirring constantly (Do Not Breath in Zinc Oxide) When you think you have stirred it enough stir it a bit more.  It takes a while for the zinc oxide to blend in.
Pour into jars, there will be some zinc left on the bottom that has not mixed in.  If you choose to scrape that into your container your sunscreen will end up slightly grainy and more white.
Allow sunscreen to set up on the counter.
Store your sunscreen in a cool dark cabinet.  We keep one jar handy and the rest in the refrigerator.  Refrigeration extends the shelf life of your sunscreen.  All oils go bad after a period of time and will have a funky smell. Sunscreen should last between six months and a year. The properties of the vitamin E oil and the essential oils will help with shelf life.