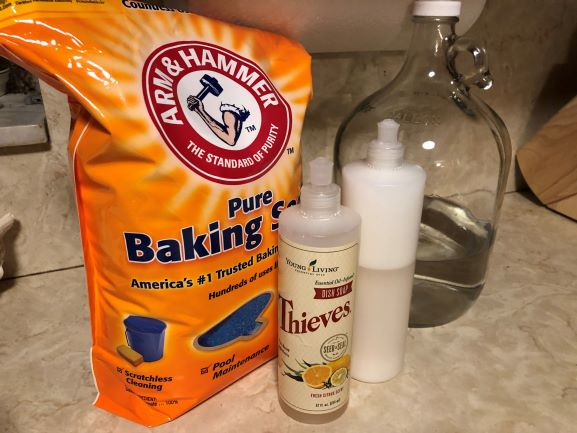 Okay here is your own DIY soft scrub.  This has the soft grit of baking soda to help with hard to clean areas.
What you'll need:
Plastic Squeeze bottle (mine is 16oz.)
1 1/2 cups baking soda
1/4 cup of thieves dish soap (actually a mix of Thieves soap and more)
1/2 cup filtered water
Funnel, if you have for the baking soda
Directions:
Add half the water to the squeeze bottle
Using a funnel add the baking soda
Add the soap and the rest of the water.
Cap the bottle and shake well
You will have to shake well before each use.
Make a label or write on the bottle so you can easily identify your cleaning product.
Scrub away grime, rinse with clean water.
This is great to use in your bathroom for tile, grout, and sinks.  To help keep your shower/tub and tile cleaner spray with Thieves Cleaner after bathing.  Recommended for sure.
Hint: If you don't have a funnel you can make one out a piece of paper, super simple – no mess.
Oh no you run out and you are in a Hurry, now what?
Sprinkle baking soda on your surface then squirt a small amount of the Thieves Dish Soap blend use some water and scrub away. Done!