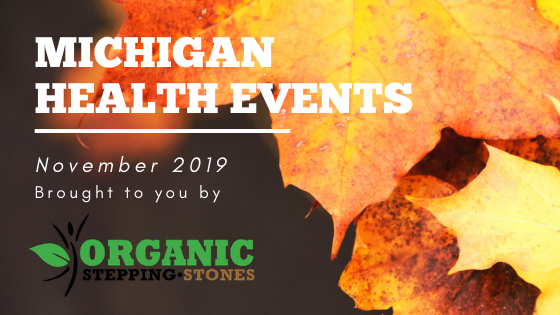 Michigan Health Events in November
It happens every year, the colors change and the temperatures drop. The trees are a magnificent explosion of color. Before the holidays are in full swing lets connect and embrace with the local health-conscious community and set our selves up for success.
With the cooler weather, we tend to stay inside more often. Grab a friend or come as you are to meet new connections and improve your health.
From cooking classes to exercise, meditation and everything in between, choose an event in the area that meets your needs!
Organic Stepping Stones is regularly updating the best health-related events that Michigan has to offer. This November's list has a variety of options. Which one is calling you?
---
Hands-On Asian Cooking Class | $45 (tickets)
Sat, Nov 9, 10:00am – 12:00pm
Culinary Kisses – Auburn Hills
A hands-on Asian cooking class. Menu: smoked salmon sushi, vegetable sushi, potstickers, and miso soup. Asian cuisine is heavily centered around heritage and family. The simplicity of the food mirrors the ease of the lifestyle. The complete experience includes food and music.
---
Ballroom Sensation Dance Party | Free (tickets)
Sat, Nov 9, 7:00pm – 10:00pm
Ballroom Sensation Ballroom Dance Studio – Troy
Come and join us for a fun-filled evening of dancing to contemporary and ballroom dance favorites at the First United Methodist Church of Troy in the gymnasium!
---
Adults Fall/Winter Cooking Classes | $25 (tickets)
Sat, Nov 9, 10:00am – 11:30am
Eastern Market Community Kitchen, Shed 5 – Detroit
Reserve your tickets early as classes fill up quickly. This Saturday you will be making Pate and Charcuterie.
---
Self-Care & Stress Management Workshop | Free (tickets)
Sat, Nov 9, 2:00pm – 6:00pm
All Things Possible Wellness Center PLLC – Clinton Twp., MI
The holiday season is fast approaching, and when added to an already demanding schedule, the stress can be overwhelming. Do you struggle with balancing work, taking care of your family and home, fighting traffic, making time for friends, and finding time for yourself? If so, our stress management and self-care workshop might be a good fit for you. Self-care is giving the world the best of you instead of what's left of you!
---
Salsa Group Class – 6 Weeks | $69 (tickets)
Sun, Nov 10, 5:00pm – 6:00pm
The Dance Scene – Centerline, MI
Beginning Salsa Group Class. Salsa is a popular form of social dance that originated in Cuba. Salsa dance socials are held in night clubs, bars, ballrooms, restaurants and outside, especially when part of an outdoor festival.
---
Detroit Mental Health Day 2019 | $5 (tickets))
Sun, Nov 10, 2:00pm to 6:00pm
Detroit Artist'Test Lab I Detroit
An informative event to spark dialogue on the importance of mental wellness education and the resources that are accessible to anyone. An engaging panel discussion moderated by the renown conversationalist and mental health advocate, Qui Morgan along with a slew of local Detroit influencers, entrepreneurs and mental health experts who will tell their personal stories and provide actionable insight into breaking the stigmas of suicide and mental health awareness in Detroit and the world we line in.
---
Fusion Belly Dance w/Heather Marie | $25 – $125 (tickets)
Tue, Nov 12, 6:30pm – 8:00pm
Detroit School of Burlesque – Ferndale, MI
If you want to learn, sweat, build strength, muscle memory, stamina, flexibility, or just want to refine your pre-existing belly dance techniques in a fun safe space: you will not be disappointed after diving into this class! All skill levels are welcome! Bring a Yoga mat, Finger Cymbals, and water.
---
Hormonal Health Ladies Night | $15 (tickets)
Wed, Nov 13, 6:00pm – 8:30pm
Franklin Athletic Club, Southfield, MI
Ladies are your hormones impacting your health? This five-part series will run from November to March meeting monthly to discuss signs of hormonal imbalances, the role of stress on your hormones, hormones and weight, foods and hormones and estrogen dominance. You can come to one workshop or all five. $15/workshop or $60/the whole series. Stay after for a glass of wine and shopping from some local vendors.
---
Soul Rhythm Yoga I Asana: Power Flow | Free (tickets)
Thur, Nov 14, 21, 28, 8:00pm – 9:15pm
SOMA: Studio of Movement Arts. Ann Arbor, MI
Soul Rhythm Yoga is a non-competitive and fun yoga asana practice for people to become more familiar with Hatha yoga. Classes are designed to inform breathing techniques, instruct proper alignment, and encourage creative expressions and individual explo9ration of yoga postures. Students will also have the opportunity to learn mindfulness and meditation practices.
---
There Is No Health Without Mental Health | Free (tickets)
Sat, Nov 16, 10:00am – 4:30pm
McAuley Health Center I Detroit
The Role of the Church in Dealing with Mental Disorder brings a primary focus on the role of the church in addressing mental illness, how we as a community can maximize resources in the Detroit area, destigmatize mental illness and promote awareness to people all across Detroit.
---
Meditation for Beginners – Isha Kriya Yoga | Free (tickets)
Mon, Nov 18, 6:00pm – 7:00pm
Isha Institue of Inner – Sciences, USA I Canton
Rooted in the timeless wisdom of the yogic sciences, Isha Kriya is a simple yet potent process created by yogi and mystic, Sadhguru. Isha Kriya is free, simple, and easy to practice. Available as a guided meditation with an instructional video and downloadable instructions, as well as through live classroom sessions, it has the potential to transform the life of anyone who is will to invest just 12 minutes a day.
---
Stay on Track Through the Holidays | $35 (tickets)
Tue, Nov 19, 6:30pm – 8:30pm
PBNSG Directors of Culinary Education, Vicki Brett-Gach & Michele Gallo I Beverly Hills
Don't let unhealthy holiday food temptations get in the way of your health goals or progress. Learn strategies and recipes to stay on track. You will be learning (and sampling) many of their holiday favorites, including creamy artichoke spinach dip, Festive Rice Pilaf, Harvest Soups, and Holiday Brownies!
---
Diabetes and Gut Health Seminar | Free (tickets)
Tue, Nov 20, 6:00pm – 7:30pm
Center for Functional Health and Wellness I Southfield
Free educational seminar and dinner! Come to this exciting seminar to learn about how functional medicine gets to the root of the problem. If you're sick of just putting band-aids on big problems and are looking for a completely different approach to medicine – this is it! The lecture will focus on diabetes and gut health and will include an opportunity to book an initial appointment with The Center for Functional Health and Wellness.
---
Soup, Stew & YOU! | $25 (tickets)
Thur, Nov 21, 6:30pm – 8:30pm
Health Coach Shalynne, LLC I Utica
The weather has turned a little cold outside and your insides are yearning for a delicious soup to warm it up. You need some ideas and you will find just what you are looking for at Soup, Stews and YOU with Coach Shalynne. In this evening of eating you will feast on Carrot-Sweet Potato Soup, Chicken Kale Soup, and Beef Stew. You will also be treated to your choice of crackers and a holiday punch perfect for Thanksgiving Day. A 15-minute talk on the role that nutrition plays in reaching your fitness and weight loss goals.
---
Mixed Level Yoga | Free (tickets)
Fri, Nov 22, 6:00pm – 7:00pm
A Moment to Breathe Yoga and Meditation I Southfield
Anyone can yoga! All levels welcome to join for an evening of stress-relieving yoga after a long work week! Come to let go and breathe! First-class free to try!
---
Simple Healthy Desserts | Free (tickets)
Sat, Nov 23, 1:00pm – 2:00pm
Organic Stepping Stones I Harrison Twp.
There are some healthier choices if you are looking to indulge that sweet tooth. Come join Renee Pokoj to sample some delicious goodies. We will be covering a variety of ways to make chia seed pudding without using any dairy. Learn how to make flour-less lemon cookies. Find out what ingredients you can substitute for your existing recipes that you already love, but would like them to be healthier.
---
Inner Wisdom Meditation Class | $17 (tickets)
Sat, Nov 23, 11:30am – 12:15pm
Erin Covert I Royal Oak
This guided meditation class helps you connect with your inner self and your inner wisdom. meditations will allow you to explore what makes you unique and helps you move past any limiting barriers, explore problem-solving, and improve conflict management. Each class uses a variety of breathing exercises and guided imagery to allow you to reach new depts of self-awareness. Some experience recommended.
---
How to Get Involved
It's easy to get involved with the local health community in Michigan. Many of the above events are free of charge and provide a perfect way to meet the wonderful people behind the scenes and have fun while doing it!
We LOVE to meet our community members, keep an eye out for our list of December health events and all of 2020; exciting times ahead!
List your Event
Would you like your event listed? All Michigan events are considered, please send an email to Renee@OrganicSteppingStones.com with the subject line "Michigan Health Event" and we will contact you right away.
Note: This page is updated regularly as events are added. Last update: 11-5-2019