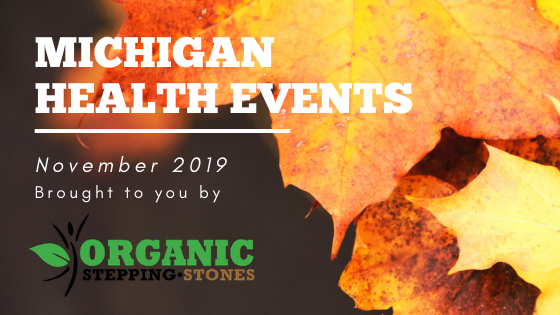 Michigan Health Events in November
It happens every year, the colors change and the temperatures drop. The trees are a magnificent explosion of color. Before the holidays are in full swing lets connect and embrace with the local health-conscious community and set our selves up for success.
With the cooler weather, we tend to stay inside more often. Grab a friend or come as you are to meet new connections and improve your health.
From cooking classes to exercise, meditation and everything in between, choose an event in the area that meets your needs!
Organic Stepping Stones is regularly updating the best health-related events that Michigan has to offer. This November's list has a variety of options. Which one is calling you?
---
Hands-On Asian Cooking Class | $45 (tickets)
Sat, Nov 9, 10:00am – 12:00pm
Culinary Kisses – Auburn Hills
A hands-on Asian cooking class. Menu: smoked salmon sushi, vegetable sushi, potstickers, and miso soup. Asian cuisine is heavily centered around heritage and family. The simplicity of the food mirrors the ease of the lifestyle. The complete experience includes food and music.
---
Ballroom Sensation Dance Party | Free (tickets)
Sat, Nov 9, 7:00pm – 10:00pm
Ballroom Sensation Ballroom Dance Studio – Troy
Come and join us for a fun-filled evening of dancing to contemporary and ballroom dance favorites at the First United Methodist Church of Troy in the gymnasium!
---