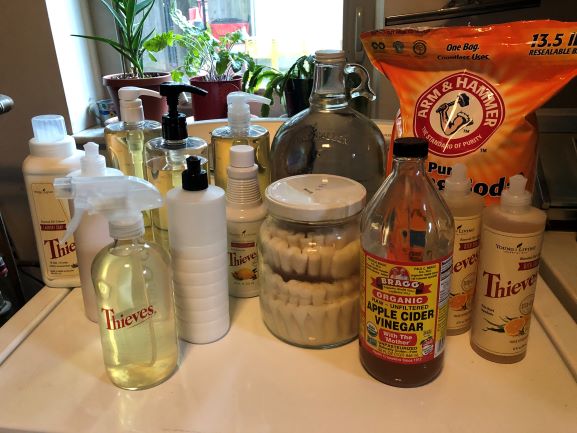 We go through life cleaning to get rid of dirt, germs and who knows what, right?  But what do those cleaners leave behind? When is the last time you looked at the warning labels?  The effects of years of use are not to your benefit to put it gently.
How about trying some DIY Cleaners?
There are other options to have a clean home, office, camper and anything else you want to clean.
Here is a video from FB now available on Organic Stepping Stones Youtube channel.
Laundry Soap
One cleaning product that can get overlooked is laundry soap.  Take a moment to realize you are wearing clothes all the time (well most of us are) then you hop into bed and cover up with sheets and blankets.  All that fabric has been touching our skin – which by the way is our largest organ.
Chemicals you can find in conventional detergent
SLS/SLES Sulfate & sodium Laureth sulfate/ sodium lauryl ether sulfate – can irritate eyes, skin, and lungs. When washed down the drain is harmful to aquatic life.
Petroleum distillates – irritates the skin, often contaminated with carcinogens which the skin absorbs increasing toxin levels
1,4-dioxane – short term effects eye and nose, long term liver and kidney issues and studies with rats breathing vapors developed cancer.
This is only a few ingredients in conventional laundry detergent, I would rather focus on things that benefit us
Continue reading Natural Household Cleaners for Healthy Living