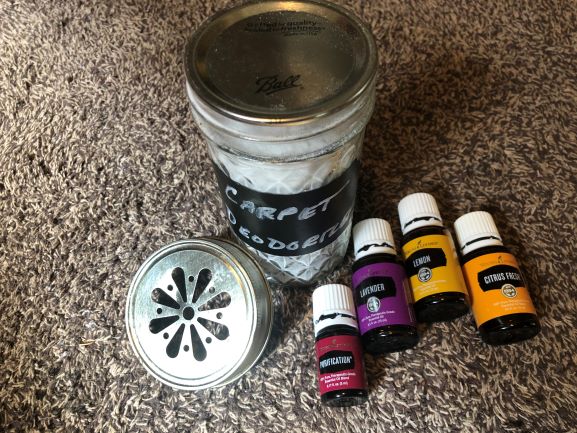 Do you have pets?  We do, and even if you don't sometimes the carpet needs to be freshened up in between carpet cleanings.  Because of the dogs and the fact I like to sit on the floor I like to use a deodorizer that works without harmful health effects.
Eliminating Odors is simple and effective.
What you'll need:
Glass jar with lid
2 cups baking soda
Essential oils 10 to 20 drops (or dried herbs)
Directions:
Add half the baking soda to the jar
Then add your essential oil (some good choices are Purification, lemon, citrus fresh, lavender)
Cap the jar and shake
Remove lid add the remainder of baking soda
Screw-on lid and shake
Sprinkle on carpet lightly
Leave on overnight or at least 2 hours
Vaccum
Note:  When not in using the deodorizer I put a canning lid under my cap to retain freshness.  If you don't have a sprinkle top you can use a canning lid then poke holes in it to use, then replace it with a canning lid (or stack the lids when storing).
When using essential oils I only use Young Living Brand. After researching I feel that the quality of their products is most important.