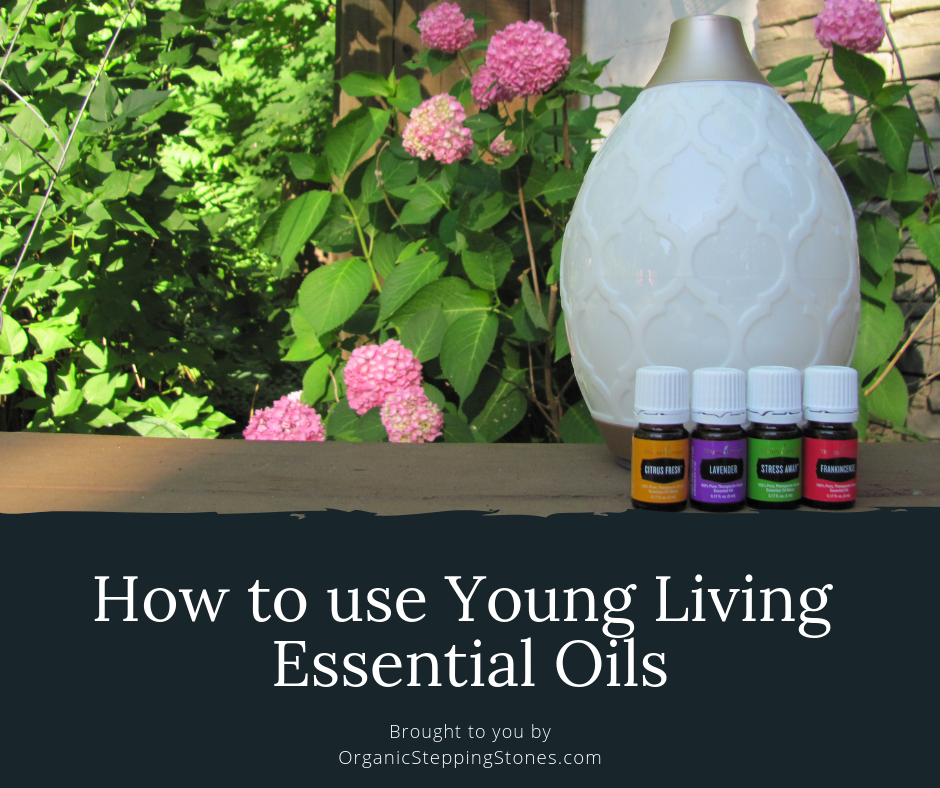 You have been thinking about getting some Young Living essential oils or you just got them, now what?
There are 3 primary ways to use Essential Oils
Aromatically
Topically
Internally
Let's take this a step further and go over all three areas.
#1 – Aromatically
For many people, diffusing is one of their favorite ways to use essential oils.  It is so easy to put a calming essential oil in your diffuser when having a difficult day.  When someone in the family needs emotional support don't say anything, simply use an oil like StressAway, Lavender, Peace & Calming, Cedarwood or any oil that lifts you up.
There are many ways to use essential oils aromatically:
Drop 1 or 2 drops in the palm of your hand, rub your hands together then cup your hands over your nose, inhale and hold
Put a few drops into a bowl of hot water – place your face over the bowl, cover your head with a towel to hold in the steam- Take slow and deep breaths
Diffuse in your Desert Mist or Dew Drop diffuser (I love the flicker mode on the Desert Mist Diffuser – no more toxic candles)
Place a cotton ball or clothespin in your car vent.  Choose an essential oil and use a drop or two on the cotton ball or clothespin
Choose a different oil every day to diffuse.  Discover which is your favorite!  Often your favorite essential oil will change.  Of course, you will have a few must-have's – I carry several with me all the time.
Did you know that you can use more than one essential oil in your diffuser?  Try Stress Away and orange,  it smells like a creamsicle.  Try creating your own special blends too!
Maybe you are looking to refresh and unwind; add 3 drops of peppermint, 3 drops of lemon and 4 drops of lavender in your diffuser.
#2 – Topically
Young Living essential oils can be applied topically to your skin just about anywhere.  Avoid putting oils in your eyes and inside your ears.
Essential oils are beneficial to use neat (which means use straight out of the bottle and apply to your wrists, neck, and bottom of the feet)
Apply like a perfume – Bonus! –  Young Living essential oils smell terrific and support the health of your body
Roller-balls
Vita flex points
Add a few drops of lavender to Epsom salts, fill a tub with hot water.  Pour in some of your scented Epsom salts and enjoy a relaxing soak.
Follow the instructions that come on the label
Some essential oils are considered hot & should be diluted with a carrier oil such as Young Living's V-6 vegetable oil complex or a carrier oil you have at home (such as coconut oil)
Young Living essential oils can be applied throughout the day.  Put some citrus fresh on to jump-start the day.  After a good workout, peppermint will feel good on your muscles. At night, apply some lavender or stress away before climbing in bed.
You don't have to know everything there is to know in order use essential oils, you can simply put them on because they smell good.  The bonus is: whatever oil you are using will be supporting some area of your body, Whoop, Whoop!
#3 – Internally
The Young Living Vitality line of oils are labeled specifically for consumption.  A great way to start your day is to add a drop of Lemon Vitality to a glass of water (Use glass only not plastic).
Add several drops into a vegetable capsule and swallow with water
1 to 2 drops of an essential oil can be added to a glass of water or your Ningxia Red in the morning, yogurt, kombucha, or even a teaspoon of honey
Use 1 drop when cooking (or maybe even only a toothpick swirl – yes these oils are potent)
Have you ever run out of a herb while cooking? – Use your Young Living vitality oils.
With your Premium starter kit, you will receive an Essential Oils Magazine loaded with recipes and DIY projects.  You will enjoy reading through it while learning too.
Consuming essential oils internally is a means of cleaning/supporting our bodies from the inside out.  Bam, that's cool, just sayin'!
Essential Oils & DIY
You can use essential oils to create many items
Room sprays (Who's bathroom doesn't need one?)
Linen spray
Nasal inhalers
Lip Balms
Lotions
Rollerballs
Perfume
Foaming hand soap (choose a new oil each time you make some)
This list covers the basics, but there are so many more creations you can make with your essential oils.
With all of these uses for Young Living essential oils, it's time to start trying them out!
Subscribe to our newsletter at OrganicSteppingStones.com
Check out our Facebook Page
Let us know your favorite oils and uses in the comments!
Share with your friends and family who want to discover how to use their oils too