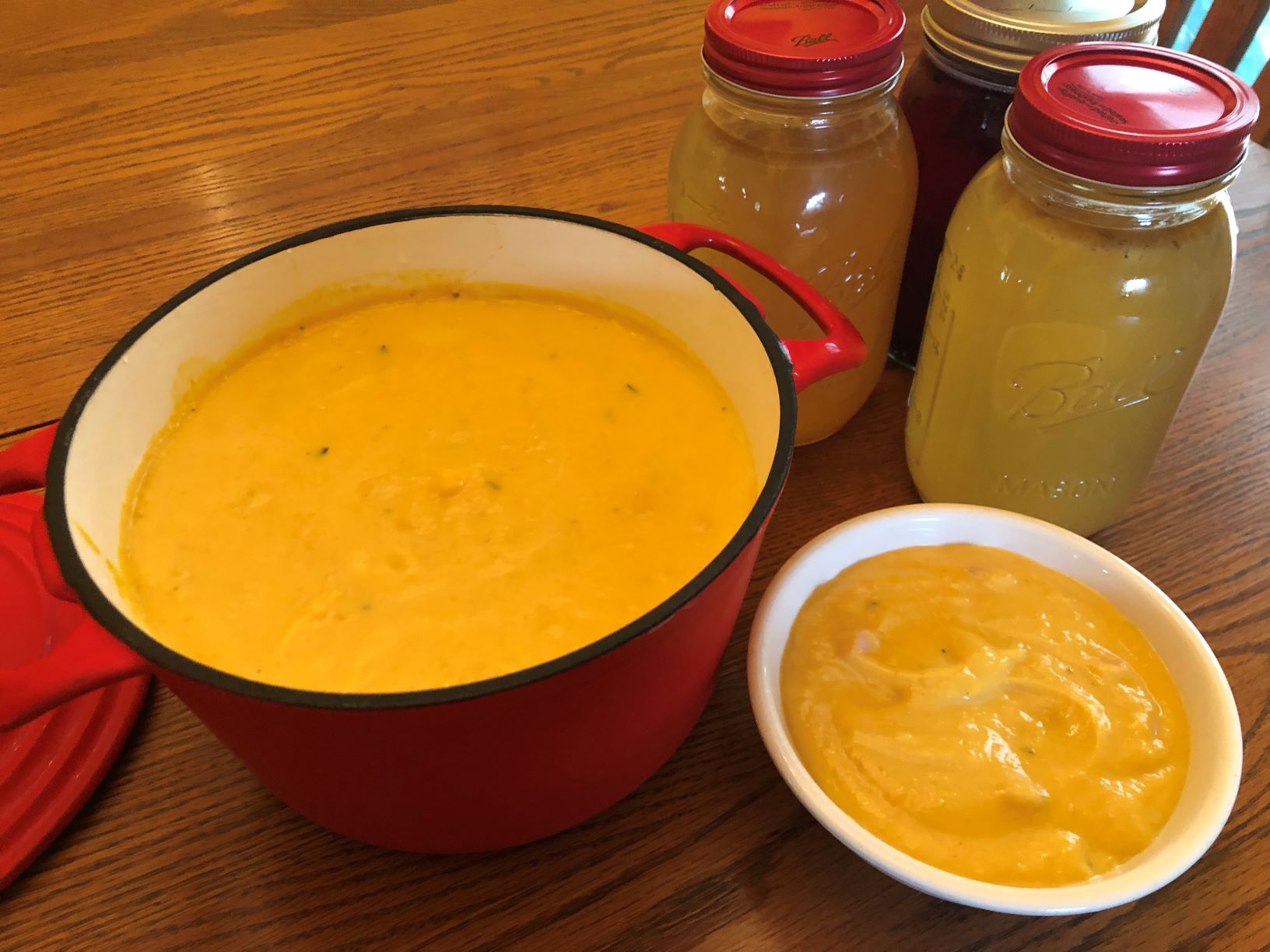 This is a favorite fall harvest soup.  It warms the body and soul.  The flavor says it all!
What you'll need:
3 tbsp. butter
1 1/2 large sweet onion chopped
3/4  tsp. dried rosemary chopped
3 to 4 cloves garlic minced
1 butternut squash – about 8 cups peeled, chopped, and seeds removed – I use the whole squash, sometimes a little under or over 8 cups.
3 to 4 Yukon potatoes peeled & chopped about 4 cups
2 quarts chicken stock or homemade bone broth
2 1/2 tsp. Celtic sea salt
1/2 tsp. freshly ground pepper
1 cup of heavy cream
1 1/2 cups diced cooked ham
Directions:
Melt butter in a large soup pot
Saute onions for a few minutes
Add garlic and rosemary, saute a few minutes more
Then add butternut squash, potatoes, salt, pepper, and chicken stock.
Bring to a boil then reduce heat to medium-low, cover and cook for about 20 minutes until vegetables are very soft.
Using an emersion blender puree all the vegetables.  Or you can use a blender or food processor to puree vegetables.  Do it in batches to fit your appliance.
Stir in cream and ham, heat for a few more minutes
Adjust salt and pepper if necessary
Enjoy!
Options:
This soup can be made without using ham
You can substitute vegetable broth for the chicken broth
For a slightly sweeter taste add some sweet potatoes
Add a pinch of red pepper flakes for a little kick
Get creative, this is your Soup!
Looking for more soup options?  Check out my Creamy Potato Soup.