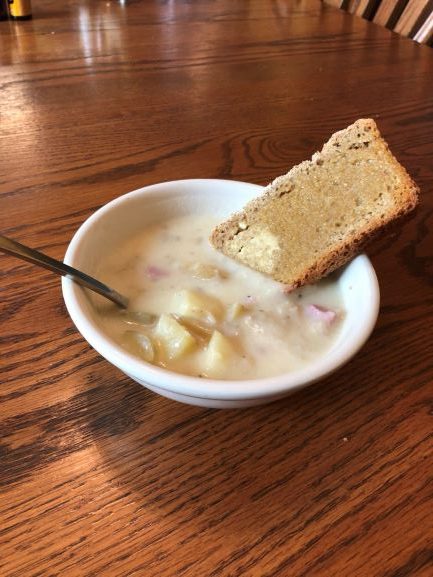 There is something special about sitting down to a homemade bowl of soup.  It is made with love and care to heal the soul, okay that is my take on it 🙂 and I'm sticking with it.
What you'll need:
2 tbsp. butter
1 large sweet onion chopped
1 stalk of celery chopped
1 clove garlic minced
1/8 to 1/4 tsp. rosemary crushed
Potatoes  10 to 12 cups peeled and cubed (I use Yukon/golden potatoes – when the skin is thin like on a Yukon you can leave the skin on if you like)
2 quarts of chicken stock or bone broth (I prefer homemade bone broth)
2 to 3 tsp. Celtic sea salt
1/4 tsp. freshly ground black pepper
1 cup heavy cream
1 1/2 cups diced cooked ham
Directions:
In a large soup pot melt butter
Add, onion, celery, and rosemary – saute for a few minutes
Then add garlic and saute a few more minutes
Add potatoes, salt, pepper, and broth
Bring to a boil, then reduce and simmer until potatoes are tender
Remove from heat
Using an immersion blender cream about half of the potatoes
Add cream and ham
Ladle into bowls – sit back and enjoy
Options:
Chopped ham is optional – we  love the flavor it adds
Instead of ham chop up the bacon and crisp it up.  Sprinkle on top when serving.
Replace onions with leek.  Thinly slice up 2 or 3 leeks and saute – delicious
From my home to yours.  Serve with a side salad and a slice of buttered sourdough bread.  Life is Good!
Note:  The benefit of leaving on the thin potatoes skins is potassium is found in the skins – keep the good stuff.
If you don't have an immersion blender you can use a potato masher or ladle some soup in a blender and puree.