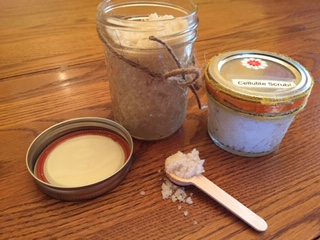 We all want beautiful glowing skin.  The best part is we can help our skin look younger by simply exfoliating it while we shower.  We all bathe so this is easy 🙂
What is Exfoliation?
Removal of dead skin cells on the skin surface
The simple step of exfoliating can have profound effects. Plus our skin is our largest organ, so let's take care of it.
Why Exfoliate your Skin?
Removes dead skin cell that clogs the skin
Allows moisturizing products to absorb
Skin looks fresh & healthy
Aging slows the shedding of skin cells and generating of new ones
Old Skin cells pile up leaving skin looking dull, rough and dry
Unclogs pores
Reduces blackheads on face
Diminishes fine lines and wrinkles
Stimulates microcirculation
Soften texture of the skin
Helps control excess oil
How to Exfoliate
Two main ways are physical and chemical
Scrubs
Chemically – acids that dissolve and remove dead skin cells
Chemical peels/masks
Dry Brushing
Exfoliating mitts
Loofahs
It is important to realize exfoliating is a good thing, however, overdoing something does not necessarily mean it benefits us. We don't want to damage or aggravate our skin either.
How often should you exfoliate?
For glowing, healthy skin once or twice a week
Over-exfoliating can leave skin dry, irritated and damaged
If you choose chemical exfoliation this is more for intermittent use
Benefits of making your own Sugar Scrub
Save money – we all love that, right?
Control your ingredients – That's Huge!
Enjoy the pleasure in knowing you made it 🙂
Most people find the best way to exfoliate is while showering or washing their face.
Using your Handcrafted Sugar Scrub
Moisten skin first
Use light pressure
Massage in a circular motion
Use a small amount, you can always add more if needed
Rinse with water then pat dry
When exfoliating your face – Remember very gently – light pressure
Make a super easy & cost-effective sugar scrub that leaves your skin silky soft
We all want soft glowing skin, Right!
HANDCRAFTED SUGAR SCRUB
What you'll need:
4-ounce glass jar
½ cup of organic sugar
¼ cup melted organic coconut oil or fractionated coconut oil (liquid)
Essential oils of your choice about 10 drops
Mixing bowl
Directions:
Using a bowl mixing bowl combine sugar, coconut oil, and essential oil
Still well
Pack jar
Label, tie a ribbon if it makes you happy!
Keep one for yourself and make one for a friend
Whether you are doing your face or body first moisten skin with water
The shower works great
Using wet hands and a circulator motion gently massage into skin
If exfoliating the face avoid your eyes
Rinse with warm water
Of course, you can double the recipe and make an 8-ounce jar.  Better yet make several jars to have on hand.  Create one and enjoy for many days to come.
Are you wondering about what essential oils to choose from?
There are so many choices and we all have different callings at different times.  Normal!
Essential Oil Suggestions for your Sugar Scrub
(Use a total of 10 drops of Young Living Essential Oils)
Grapefruit
Orange & Lemon
Citrus Fresh
Lemon & Lavender
Peppermint & Orange
Peppermint
Lemon
Grapefruit & Peppermint
Orange
Let your creative juices flow.
What moves you?  Take a deep breath then choose.
A better idea, make several different varieties, your good to go.  Use what moves you.
Details on Essential Oils
Grapefruit – Invigorating scent of joy, satisfaction, and fun.  Great for skin.  Check out this post on grapefruit and cellulite/skincare.
Orange – Is an uplifting burst of morning sunshine. All you need for a sense of harmony, peace, and creativity.
Lemon – Its Happiness in a bottle. Yep, hands down. It benefits your skin, hair and smells so fresh in any room.
Citrus Fresh – All the beauty of the citrus scents in one (Lemon, grapefruit, orange, tangerine, mandarin, and spearmint).  Bam, so nice. It's a boost to your skincare routine.
Lavender – It's calming yet fresh and clean.  So good for skincare and when you need to take time out and relax.
Peppermint – Great for focus. Create a tingling, cooling sensation on the skin – it's time to awaken! Great after hard physical activity.  Feel your respiratory system come alive. Peppermint anyone?
The above list is the tip of the iceberg.  Each description only mentions a few of the reasons to use each oil.  Truly Young Living offers over 200 oils, what? Yep! Give me a shout when you're ready to jump into wellness with YL oils and infused products.