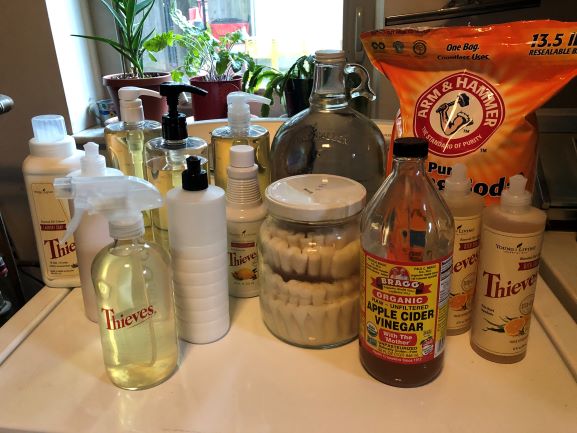 We go through life cleaning to get rid of dirt, germs and who knows what, right?  But what do those cleaners leave behind? When is the last time you looked at the warning labels?  The effects of years of use are not to your benefit to put it gently.
How about trying some DIY Cleaners?
There are other options to have a clean home, office, camper and anything else you want to clean.
Here is a video from FB now available on Organic Stepping Stones Youtube channel.
Laundry Soap
One cleaning product that can get overlooked is laundry soap.  Take a moment to realize you are wearing clothes all the time (well most of us are) then you hop into bed and cover up with sheets and blankets.  All that fabric has been touching our skin – which by the way is our largest organ.
Chemicals you can find in conventional detergent
SLS/SLES Sulfate & sodium Laureth sulfate/ sodium lauryl ether sulfate – can irritate eyes, skin, and lungs. When washed down the drain is harmful to aquatic life.
Petroleum distillates – irritates the skin, often contaminated with carcinogens which the skin absorbs increasing toxin levels
1,4-dioxane – short term effects eye and nose, long term liver and kidney issues and studies with rats breathing vapors developed cancer.
This is only a few ingredients in conventional laundry detergent, I would rather focus on things that benefit us
Laundry Soap Option
In our home we use Thieves Laundry soap however it is concentrated so here is how to get 2x more in only a few simple steps.
Go from 1 to 3 bottles of effective cleaning. Get the directions here.
I have tried making several types of laundry detergent and I'm finally happy with this one. Some of them have taken a fair amount of time. This soap is plant-based without the stuff you don't want and only takes a couple of minutes to combine.  The bonus you can keep reusing the 3 pump bottles – less plastic waste.
We need to support our immune systems not to break them down.
Let's talk toilet bowl cleaners
It is so easy and cost-effective to create your own. Only 3 ingredients are needed, so straightforward.
All you do is mix, shake, squeeze and clean with your toilet brush.  No fumes are necessary to get a clean bowl.
Give it a try – Toilet Bowl Cleaner
Moving on to the sink, tub, and tile, which does not clean itself – that would be amazing 🙂
Wouldn't it be nice to be able to be in the shower (in the buff) give it a quick scrub down, rinse everything then shower and get on with your day?  With most store-bought cleaners I would never consider this for health reasons, I'm sure you would agree.
This is not the case with this Tub, Sink & Tile Scrub, Clean without the gunk – love it. To get in the grout I like to use a scrub brush or a fabric scrubbing pad that has some coarse fabric woven into it.
Does your carpet need to be freshened up?
So you're sitting on the floor playing with your pet, child, grandbaby then you roll on the carpet and get a whiff?  All you can say is oh wow, and not in a cherry voice 🙁
There are times when you can't clean the carpet as soon as you like, so deodorize it.  The next option is to make your own Natural Carpet Deodorizer saving $ and you change scent each time you make it.  All you need is baking soda and some Young Living essential oils.
This deodorizer is super fast to make. For best results, I like to sprinkle it on the carpet before I go to sleep, then vacuum first thing in the morning.
Thieves All-Purpose Spray Cleaner – A Favorite!
All-purpose meaning it cleans the house from top to bottom.  It can be purchased through Young Living and it comes in a concentrate.  To make a 16oz bottle of cleaner it only takes 2 capfuls.
We can deep clean without harsh and abrasive chemicals. My body thanks me every time I use Thieves Cleaner instead of something with Warning Labels.
Whatever you want to clean, clean it with Thieves, it that easy.
Stretch you Thieves Dish Soap
The Thieves dish soap works great the way it comes.  When it comes to money I make it stretch where ever I can, so by adding a few other ingredients I end up with 3 bottles of soap instead of 1.  All the dishes come out squeaky clean without any nasty residue.
DIY Natural Cleaning Wipes
We all want a wipe that does the job of cleaning the yuck away.  We should also want one that promotes overall health.  You can have both with these DIY Natural Cleaning Wipes. These are made using coffee filters for your wipe. Cool, right?  Clean and natural.
When I first decided to make these I questioned whether I would like them, I was surprised. I do like using them.
DIY Stain Dropper
If you do the laundry you know there are times when you have to deal with stains.  This DIY Stain Dropper targets the area by using the glass eye dropper – apply only where needed, no waste. Apply to the area, give it a little scrub, then launder as usual.
Why Young Living
A word on why I use Young Living essential oils only.  They are pure plant essential oils, no chemicals, pesticides or other toxins used during growing, harvesting or processing (that is Huge).  YL has been around for over 25 years.  They own or partner with all their farms with strict policies in place.
Not only are they the growers, processor and handle distribution they are also a research and testing company.  To go one step further they do third party testing on their essential oils.
Many of the recipes that I posted use a Thieves product.  These are available through Young Living -all about healthy and sustainable living.  I'm wife, mother, daughter, sister, friend and a Young Living distributor. If you are not currently a member or not getting your products for 24% off of retail I'm here to get you started.